Amusement Park: Flash for souvenir pictures
Phoxene, strobe photography
For over 25 years, Phoxene has acquired know-how in the design, manufacture and sale of flash for amusement parks and ride photography. Millions of people ride roller coasters and similar rides in entertainment parks around the world. The experience wouldn't be complete without a souvenir photograph taken at a critical part of the ride. A powerful and reliable strobe is the guarantee to capture high quality images and offer nice and funny souvenir pictures to visitors.
Strobe lighting and ride photograhy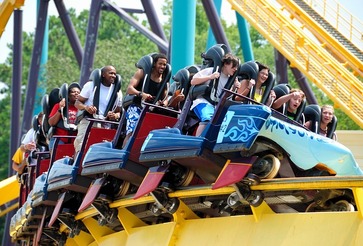 Strobe lighting unit is one of the key components of automated image capture for amusement park.
On ride photography, pictures might be of single seat, row or multiple rows. Strobe area of illumination evenly exposes the image and delivers perfectly composed shot. The high-speed rides require accurate strobe trigger and multi-shot burst capabilities, so that every rider in every seat is captured in a pin-point sharp picture. Additionally, rides being either outdoor or indoor, the ambient light conditions may vary. A powerful strobe lighting is capable to surpass ambient lighting so that all pictures are of even high-quality all over the day, the night and the seasons.
Reliable strobe lighting for amusement park
With nice souvenir photographs, visitors of amusement parks or theme parks can enjoy and share their memories. To keep its promise such offer must rely on robust and agile automated imaging solution.
Because ride photography requires solutions highly reliable both for the hardware and the software, only industrial strobes specially designed for demanding applications should be used. Such professional strobes are equipped with remote monitor and control functionalities and allow adjustment of light intensity and automatic operating checks.
Phoxene xenon flash for amusement park
Phoxene offers off-the-shelf strobes matching requirements of amusement park and ride photography.
Strobes are proposed in different versions to match the implementation of the automated imaging solutions within or beside the ride. Either for short-reach (5 meters) or long reach (25 meters), Phoxene xenon flashes are powerful and surpass ambient light. Different light beam angles can be selected so that the light is focused on the area to be illuminated. All strobe units come with 12V power supply making integration and cabling easy. Depending on the model, Phoxene strobes can generate burst of 12 shots of intense light in few seconds.
Our flash strobe solutions for Amusement Park