Pulsed Light Sterilization and UV Decontamination
Phoxene, decontamination modules manufacturer
For more than 25 years, Phoxene has designed and manufactured Xenon Flash and Pulsed Light emitting modules for various applications such as Decontamination, Industrial Vision or Professional Photography. Pulsed Light technology more specifically addresses UV sterilization and decontamination applications. Phoxene offers compact OEM solutions to industrial equipment manufacturers, particularly the food industry, bio-pharma or cosmetics. Phoxene's design and R&D team masters pulsed light technology and offers its customers devices that are perfectly tailored to their needs.
Pulsed Light Decontamination
UV Pulsed Technology
Pulsed light decontamination technology has been around for many years, but its transfer to industrial applications is recent. It consists in the input of a light energy of extended spectrum from UV-C to near IR in a very short time (<1ms). The effectiveness of the decontamination phenomenon results from the emission at very high levels of instantaneous power of destructive wavelengths for microorganisms (bacteria in vegetative but also sporulated form, molds, yeasts, viruses).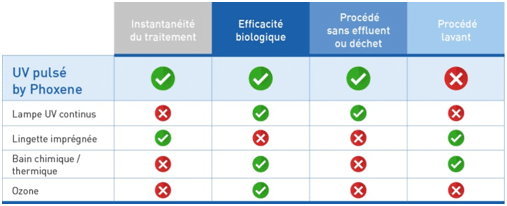 Effectiveness
Several technologies can meet industrial requirements for hygiene and decontamination but pulsed uv technology has many advantages:
– Instantaneity: It decontaminates in a very short time andis perfectly adapted to industrial processes.
– Efficacy: It leads to reductions greater than 3 log on strains such as Salmonella, Listeria, E. coli or fungi and thus meets the hygiene requirements of industrial processes.
– Athermic: Thanks to the short supply of energy, the surface material is not affected.
– Eco-friendly: It decontaminates any surface free of solid stains. This technology reduces the use of chemicals and the associated costs of purchasing and recycling.
Sterilization for industry
Hygiene and decontamination in the food industry
Creating microbiologically-safe food with an acceptable shelf-life and quality for the consumer is a constant challenge for the food industry. Pulsed UV light (ultraviolet) is a novel technology, which offers effective inactivation of pathogens on the food surfaces in very short periods of time. It does not involve chemicals and is safer and more efficient than conventional continuous UV light. Pulsed light sterilization of food was approved by FDA in 1999. It is particularly indicated to decontaminate smooth surfaces, such as those of food packaging materials: food containers, bottle caps, lids, preformed yoghurt pots.
Hygiene and decontamination in cosmetic industry
Manufacturers and distributors of cosmetic products require that containers and pots must be free from contamination before filling. In addition to health and safety objectives for products such as lotions or creams that will be applied to the skin, the objective of decontamination relates to the reduction of preservatives while preserving the dates of minimum durability and period after opening (PAO).
Pharmaceutical packaging sterilization
Far from being a simple packaging, the pharmaceutical packaging guarantees the quality and safety of use of the medicine and constitutes an essential support for its proper use. Therefore, it is essential to control bio-contamination, via disinfection, bio-decontamination or sterilization. Pulsed light is one of the technologies contributing to this objective and has many advantages: no chemical agent, no contact.
Decontamination of industrial process water
The treatment of industrial process water is essential and meets strict standards. It is possible to treat by pulsed UV or pulsed light drinkable water, process water for chemistry, pharmaceuticals, or food industry. Pulsed light is an efficient and inexpensive alternative to the use of chemicals and thus solves the problem of the generation by-products.
Decontamination of agricultural seeds
Seeds are a vector for spreading plant diseases. Control of these seed-borne diseases involves treatments with either chemicals or hot water. In order to meet increasingly stringent biological standards and maintain acceptable levels of germination rate, pulsed light appears to be a promising technology: inexpensive, fast and easy to use.
Decontamination of rooms and closed spaces
Pulsed light decontamination of rooms has been a practice that has been deployed for several years in both the United States and Europe. Without mercury and without chemicals, Pulsed Light technology allows safe decontamination of confined spaces in a few minutes. Used for the treatment of care rooms or ambulances, the Pulsed Light offers an additional guarantee to the disinfection carried out by operators.
PULSED LIGHT SOLUTIONS BY PHOXENE
Phoxene designs and manufactures pulsed UV strobes
With its technical expertise in the design of xenontubes and strobes, Phoxene offers efficient solutions for pulsed light sterilization. Phoxene offers equipment manufacturers the capability to adapt a pulsed light module according to their needs: surface to be treated, strains to eliminate, cadence …
DLP

– Pulsed Light Decontamination – a range for manufacturers, equipment suppliers and distributors
Discover our range of products
With the objective of optimizing the Pulsed Light solution for different applications, Phoxene offers a range of solutions made for various uses, of research with the DLP-Lab, of packaging decontamination on the production line with the DLP-Cup or of rooms. and closed spaces with DLP-360 and DLP-nano.
Reliability of microbiological testing from Phoxene
To test the decontaminant effects of its UV Flash technology, Phoxene relies on independent laboratories specialized in the detection, analysis, conservation and production of microbial strains for Pharmaceutical, Biotechnology and Cosmetics industries..
OEM Pulsed Light Solutions Manufacturer
Phoxene offers its expertise to design and manufacture pulsed light modules for specific uses, adapted to customer specifications.
Our flash solutions for decontamination