Pulsed Light Decontamination Solutions and Products
PHOXENE, pulsed UV flash manufacturer
Expert in optical and electronic technologies based on Xenon flashes, Phoxene designs and manufactures products dedicated to UV pulsed light decontamination. Phoxene offers a range of products suitable for various uses, as well as the development of Pulsed Light solutions to customer specifications
A range adapted to uses
Pulsed Light products covers many uses ranging from instant decontamination of small food containers to that of hospital wards.
The range includes :
– DLP-Lab : transportable laboratory equipment for tests purposes
– DLP-Cup : compact industrial equipment for pulsed UV decontamination of cups
– DLP-360 : mobile equipment dedicated to the decontamination of spaces such as hospital rooms or ambulances
– DLP-nano : compact room or tool decontamination equipment that can be integrated into a partition or ceiling
Phoxene also develops and manufactures UV-C Pulsed Light solutions to customer specifications.
DLP-lab: The compact and economical pulsed light
The DLP-lab is the most compact and economical tabletop generator on the market. It is equipped with an "OEM" optical head that can be integrated into all types of devices.
Powered by the mains under a power of 600W, and operated by a PC with a simple USB cable, the DLP-Lab processes by default an area of 100cm² with a fluence of 2J / cm². Its technology, which operates at constant voltage, allows the energy to be set from 0.1J / cm² to 2J / cm² with minimal impact on the emission spectrum.
The DLP-Lab can also be declined in Ozone Free version thanks to a choice of lamp filtering-out the low UVC spectrum.
The optical head can be adapted to treat different standard surfaces:
– 50cm² with a fluence higher than 3J /cm²
– 200cm² with a fluence of 1J/cm²
DLP-Cup : DECONTAMINATION of Cups and unit containers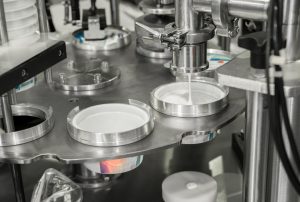 Pulsed light disinfection is commonly deployed in food industry. It replaces chemical techniques for treatment of food containers (cups, buckets, trays, caps, etc.) or food preparations. Treatment of containers before filling also reduces the use of preservatives. This Pulsed Light solution is also being used in cosmetics and paint industries.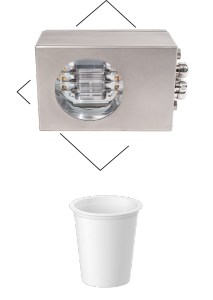 The DLP-Cup is a solution :
-Adapted to the rates of industrial production lines
-Efficient with 3 to 6 log decontamination in 0.1 second
-Compact for easy integration
DLP-360 : Pulsed UV of rooms and confined spaces decontamination
Pulsed light decontamination of rooms have been used for several years. Mercury-free unlike continuous UV equipment, the DLP-360 solution is particularly suitable for cleaning up hospital or ambulance rooms. Equipped with 800 Watt electronics, the DLP-360 is the most powerful solution on the market. A reduction in the risk of contamination by a factor of 100 in 10 minutes of treatment can be achieved depending on the room size and configuration ;
DLP-360 is a lightweight cart mounted on casters and easily handled by operators. DLP-360 is offered in a fully integrated full version but also in an OEM version with optical and electronic elements ready for integration into any type of support.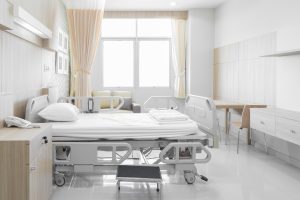 DLP-NANO : THE ULTRA-COMPACT Solution
Low power pulsed light coupled with repeated exposure decontaminate unoccupied spaces. The case of elevator cabs or metro trains immobilized at night are use examples for DLP-nano solution.
DLP-nano is suitable for the regular treatment of small spaces. Its low consumption and reduced dimensions make it easily integrated into partitions or ceilings.
Pulsed light with air cooling
While most manufacturers of pulsed light solutions require the implementation of lamp cooling by a water circuit, Phoxene has opted for the simplicity of air cooling. In fact, for many applications, water cooling is superfluous, complicated to implement and maintain.
Air cooling provides improved equipment reliability and easier access to lamps for replacement.
A very compact optical system
The architecture of the optical system in Phoxene solutions is based on the use of small-sized lamps. This approach leads to compactness and facilitates integration into industrial equipment. Depending on the surfaces to be treated, the number of lamps and the optical reflection devices are adapted to guarantee the maximum efficiency of decontamination. A reduction of integration and maintenance costs of Pulsed Light devices is made possible by the modularity of Phoxene solutions.
Compact Electronics
The electronics of the "PULSE" platform are coming from Phoxene's know-how in the design of compact flash units.
Thanks to an operating voltage much lower than competing technologies, the electronic platform of Phoxene solutions reduces integration constraints. Optimal operation of the lamps guarantees very good efficiency, particularly in the UV-C spectrum.
The Pulsed Light product range